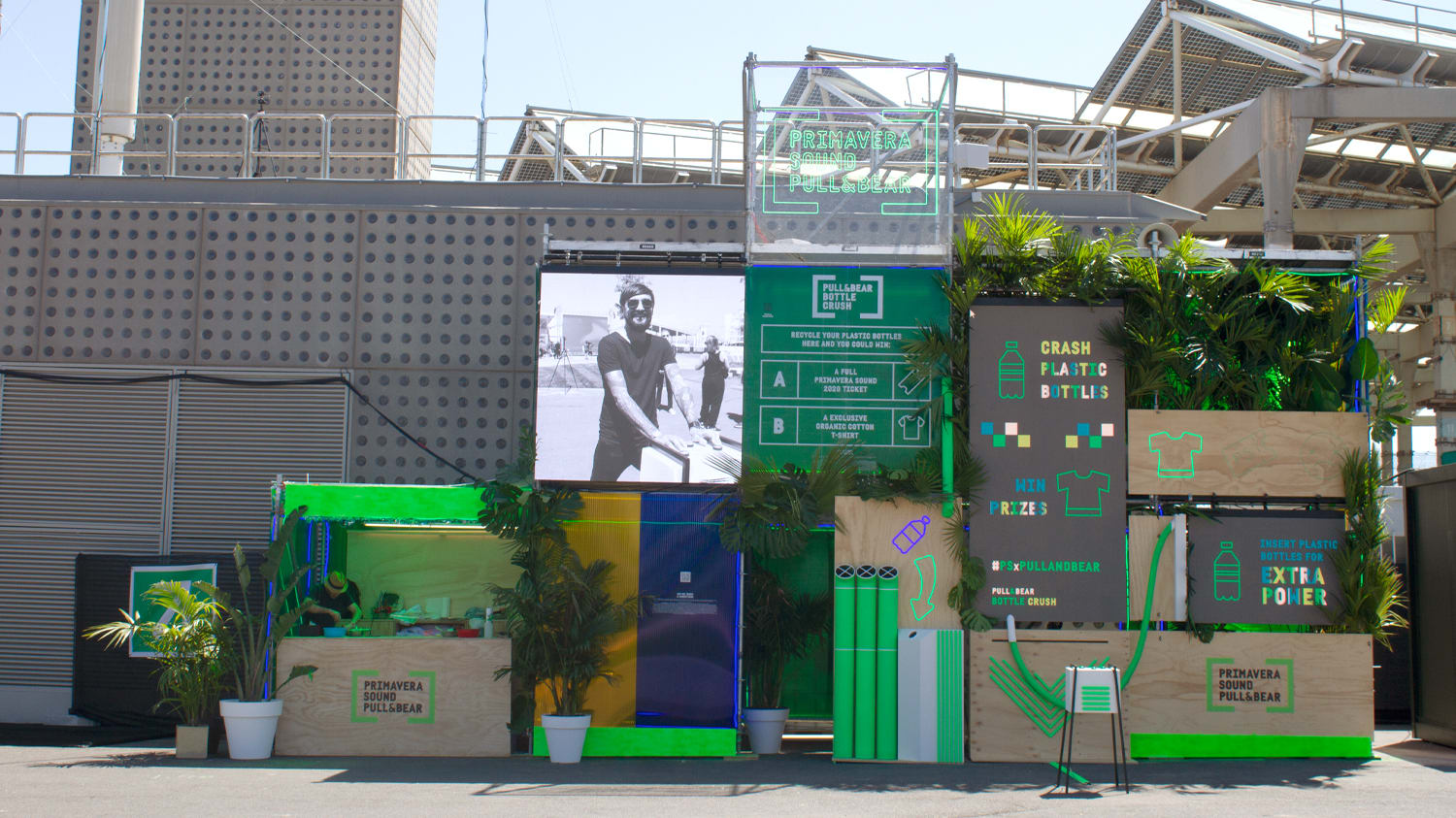 Pull Crash Bottles
A playful installation for Pull&Bear at Primavera Sound BCN
Instalación interactiva jugable para Pull&Bear en el festival Primavera Sound Barcelona 2019. Este juego combina elementos mecánicos y físicos a través de los cuales el público interacciona con un juego virtual.
Si reciclas y participas en el juego, la máquina te premia con la posibilidad de ganar una camiseta o una entrada para la siguiente edición de Primavera Sound. Suena sencillo...
Para esta instalación diseñamos una estructura modular que integraba dos pantallas, un tubo aspirador movil y el contenedor traga-botellas.
Mecánica del juego: el usuario deposita su botella de plástico en el contenedor de botellas de la instalación y el juego virtual arranca en una gran pantalla vertical. La misión consiste el aspirar las máximas botellas virtuales con el tubo aspirador físico movil que se maneja desde un controlador de dos botones. Pero ¡cuidado! A veces aparecen insectos que hay que evitar aspirar ya que descuentan puntos o dificultan el juego. ¡Sólo reciclamos botellas de plástico, no insectos!
Durante el juego una segunda pantalla se encarga de mostrar los puntos adquiridos, los resultados finales y finalmente el premio. A modo de apoyo visual molón diseñamos un panel con iconos en neon flex que se iluminan en función del premio conseguido (entrada /camiseta) o no premio (carita triste).
Para la gráfica del juego buscamos en el universo iconográfico de los festivales de música. Dadas las características de las pantallas apostamos por un diseño sencillo y colorista, tratando de evocar la simpleza de 8-bits. Todo ello acompañado de multitud de elementos animados creando dinamismo y riqueza visual. Para todo esto contamos con la diseñadora Victoria Fernández.
---
Interactive interactive installation for Pull&Bear at Primavera Sound Barcelona. The game combines mechanical elements with virtual ones.
By recycling in the game, the machine rewards the possibility of winning a shirt or ticket for the next edition of Primavera Sound. It sounds simple ...
We designed a modular structure that integrated two screens, a mobile vacuum tube and the bottle-swallow container.
Game mechanics: the user deposits his plastic bottle in the bottle container of the installation and the virtual game starts on a large vertical screen. The mission consists of vacuuming the maximum virtual bottles with the mobile physical vacuum tube that is operated from a two-button controller. But beware! Sometimes insects appear that you have to avoid aspirating as they discount points. We only recycle plastic bottles, not insects!
During the game a second screen shows the actual points, the final results and finally the prize. As visual support we designed a panel with icons using neonflex, They are illuminated depending on the prize won (ticket / shirt) or not reward (sad face).
For the graphic of the game we look for in the iconographic universe of the music festivals. Given the characteristics of the screens we opt for a simple and colorful design, trying to evoke the simplicity of 8-bits. All this accompanied by a multitude of animated elements creating dynamism and visual richness. The graphic design is by Victoria Fernández.
&nbsp &nbsp
Installation Design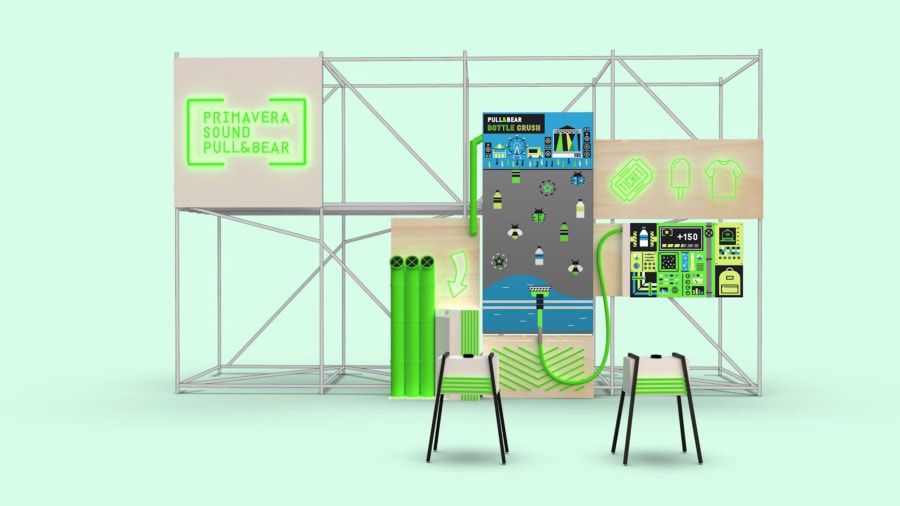 &nbsp &nbsp
Gameplay
&nbsp &nbsp
Real event pics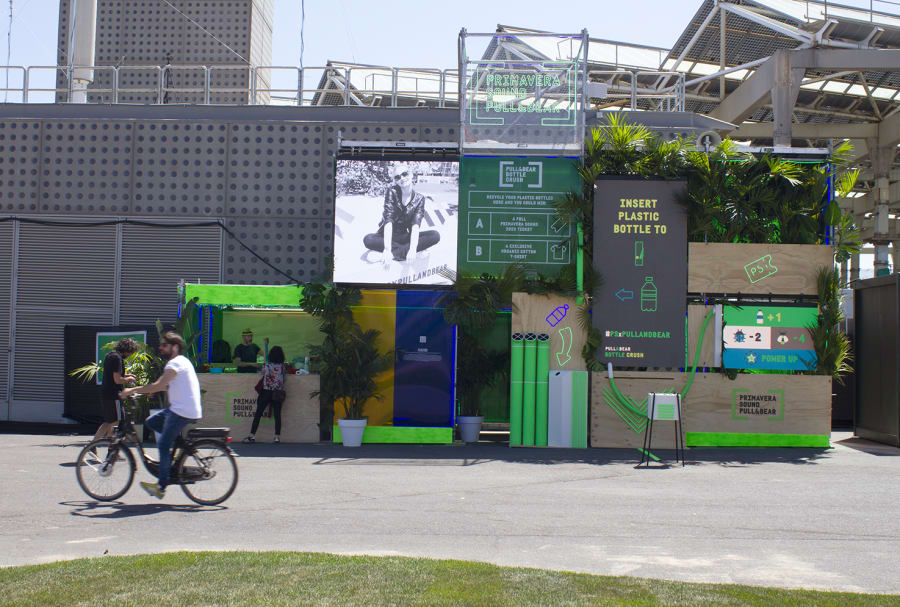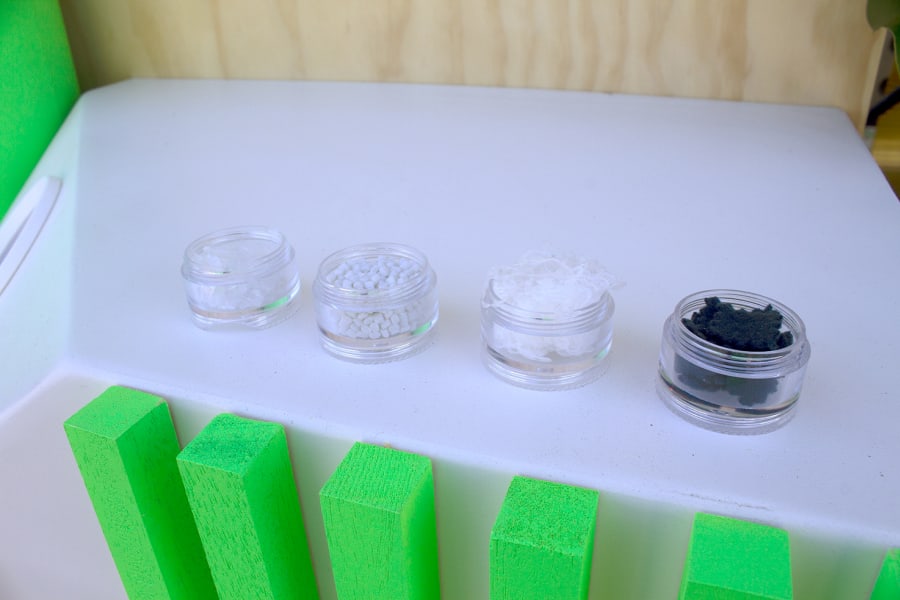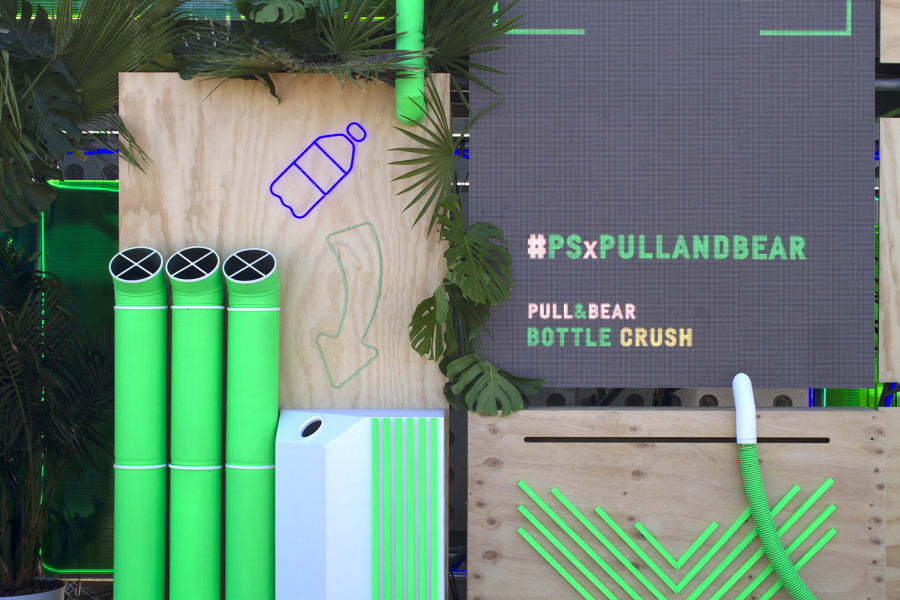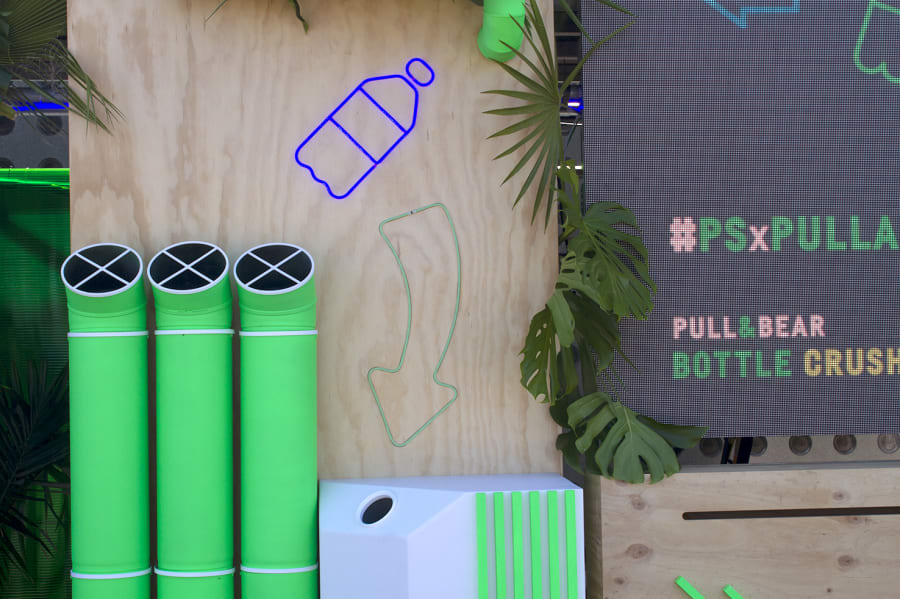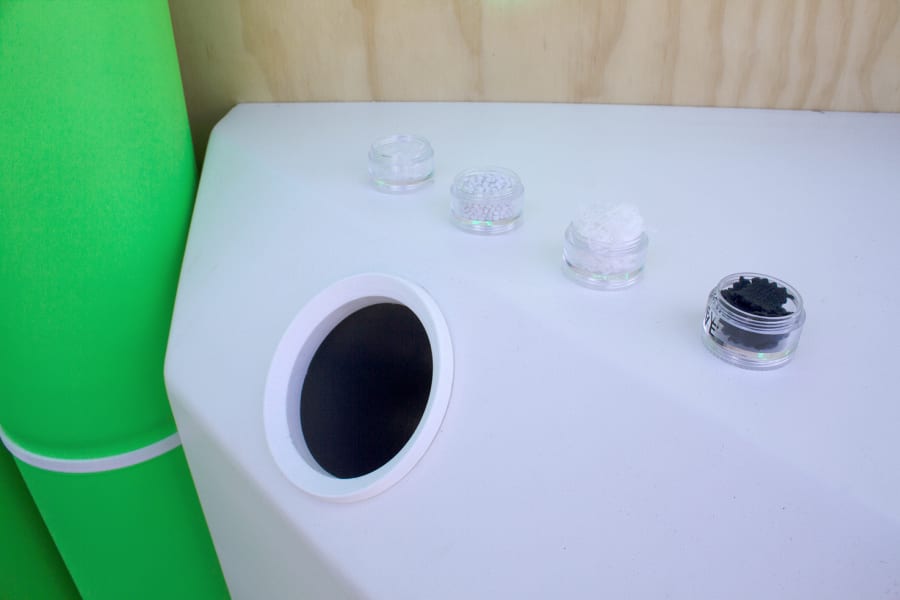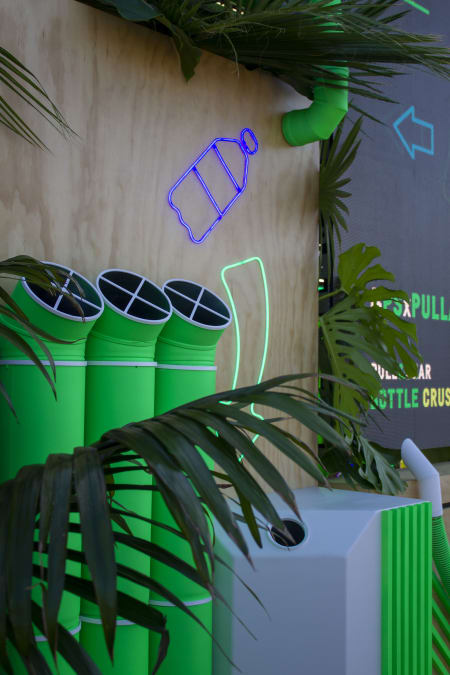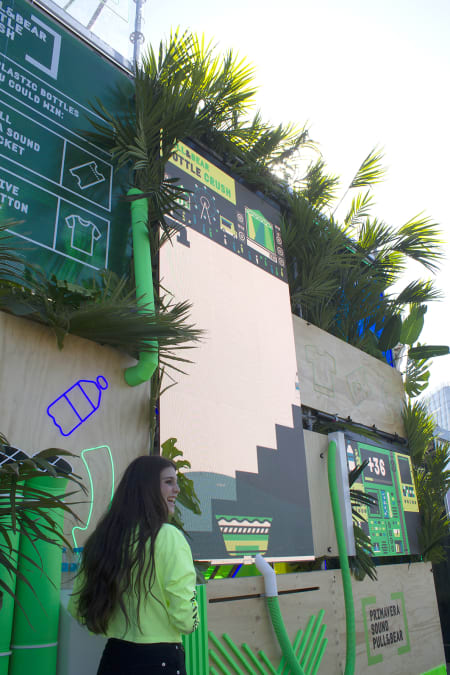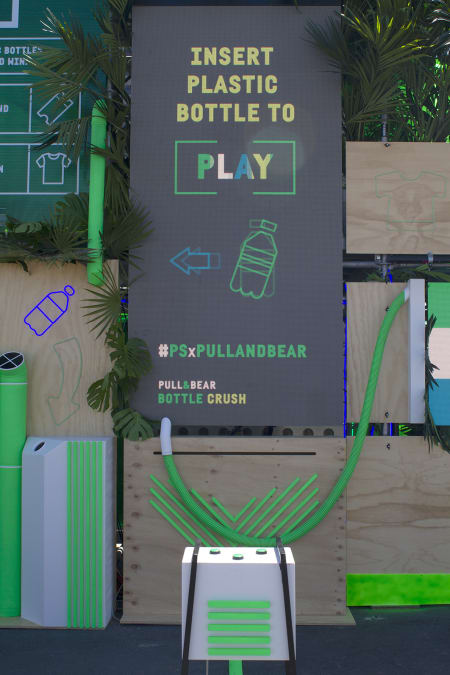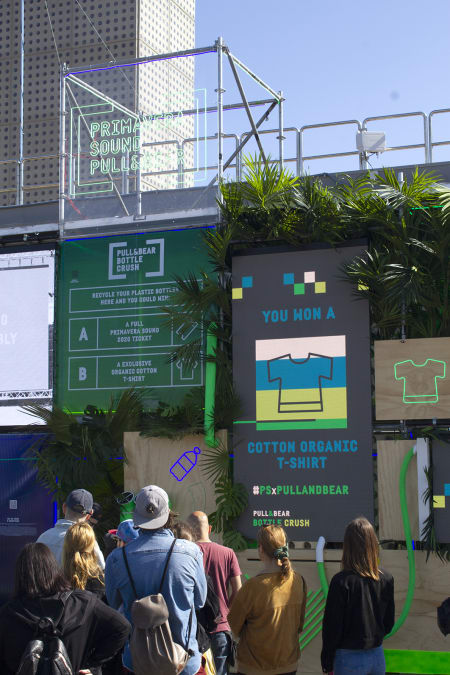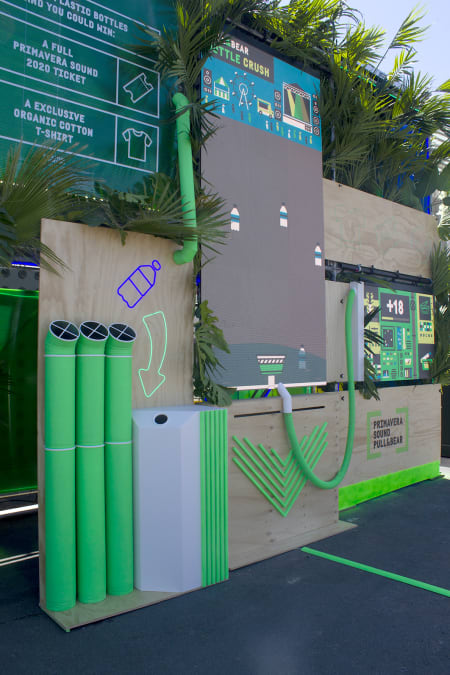 A Project by: Espadaysantacruz Studio
Client: Pull&Bear
Industrial Design, software development & production: Espadaysantacruz Studio
Graphic design: Victoria Fernández
Powered by: Openframeworks, Arduino & Trinamic Motors
May - 2019