Interventions: Quiet Kennel
Noise-cancelling dog house prototype
* Arriba Director ´s cut video.
La tecnología utilizada en automoción puede aplicarse para mejorar otros aspectos de nuestro día a día. El proyecto Ford Interventions utiliza las últimas innovaciones de sus coches para resolver problemas cotidianos. A muchos perros y otras mascotas les aterrorizan los fuegos artificiales. Para minimizar el estrés de los perros, hemos diseñamos y construido una caseta que usa una combinación de sistemas de cancelación de ruido pasivos y activos. La caseta cuenta con un sistema que detecta el sonido de los fuegos artificiales emitiendo las frecuencias inversas para reducir el ruido.
La caseta está construida con paneles de corcho insonorizados, elevadores antivibración y ventilación silenciosa, además tiene una puerta automática ayuda que permite a su perro entrar y salir.
---
* Above Director 's cut video.
The technology used by cars can be applied to improve other aspects of our day to day. Ford's Interventions bring the latest car innovations to solve everyday problems. Many dogs and other pets are terrified of fireworks. To minimize the dog stress, we have design and build a kennel that uses a combination of passive and active noise cancelling systems. The kennel detects explosions with microphones and counteracts them by pumping out frequencies that mitigate the sounds.
The kennel is build with soundproofing cork panels, anti-vibration risers and even soundproofed ventilation, while an automatic door helps your pooch quickly take shelter.
&nbsp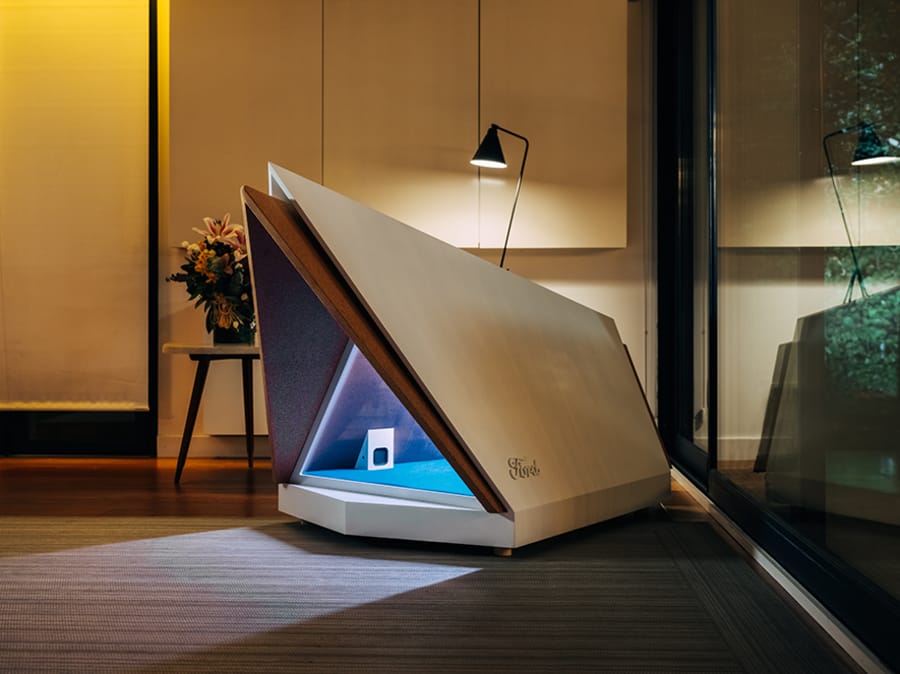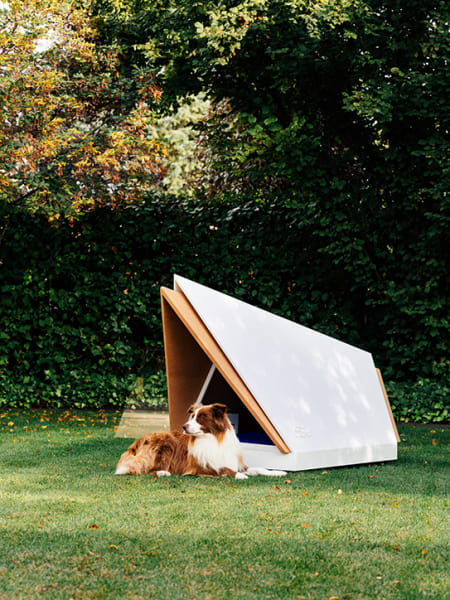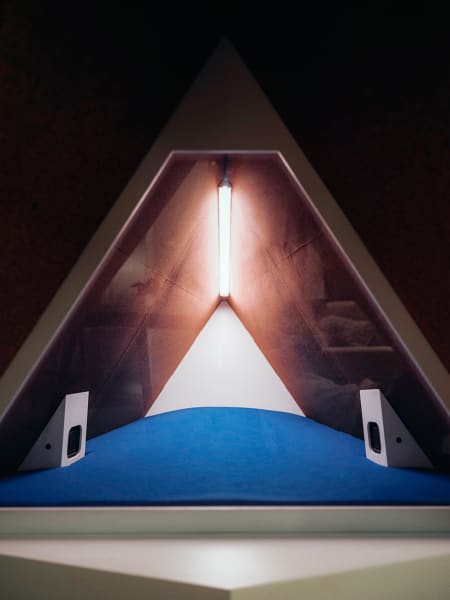 &nbsp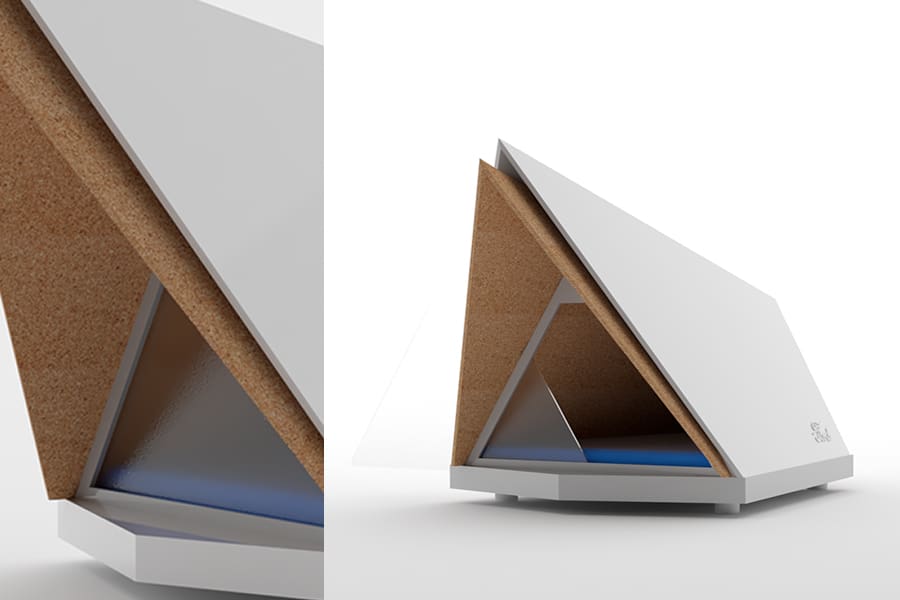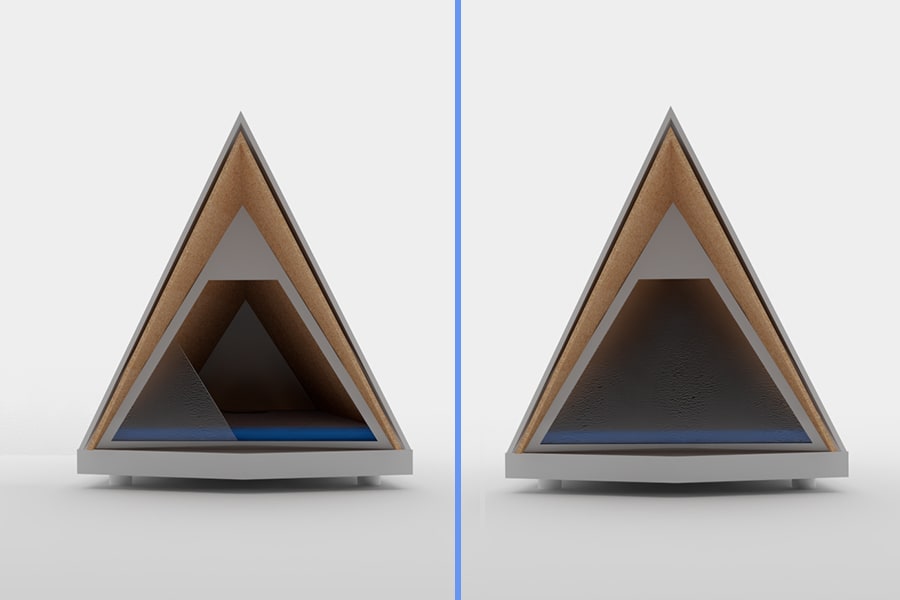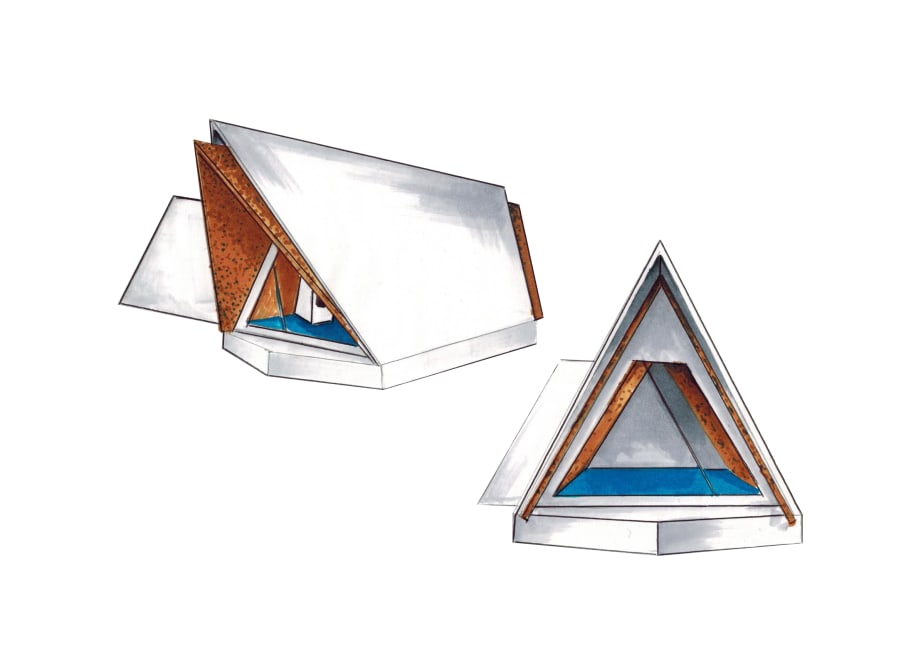 &nbsp
---
Cómo funciona
Los perros pueden oír una gama mucho más amplia de frecuencias de sonido que los humanos, y además puede hacerlo desde cuatro veces más lejos. Eso hace que el ruido de los fuegos artificiales sea especialmente molesto para ellos. Los humanos son capaces de oír frecuencias entre 20Hz y 20,000Hz, mientras que los perros pueden oír frecuencias mucho más altas en el rango general de 67Hz a 45,000Hz.
La caseta está construida con materiales aislantes de sonido entre ellos corcho de alta densidad. Además, incorpora un sistema de cancelación de ruido activo inspirado en la tecnología "Active Noise Cancelling" incorporada en los SUV Ford Edge. En el coche, se utilizan micrófonos para captar los ruidos externos del motor y del rozamiento, los altavoces generan frecuencias de sonido opuestas para cancelarlos.
Nuestra caseta incorpora un conjunto de micrófonos y un procesador de señal que capturan las ondas de sonido entrantes y generan ondas inversas. La mezcla de ambas producen una interferencia disruptiva que reduce la intensidad del ruido.
La imagen de abajo muestra el resultado de aplicar el algoritmo de "Noise Cancelling" al la onda de audio de fuegos artificiales; Las barras azules representan la potencia del sonido de las frecuencias originales, las barras verdes la potencia después de aplicar la cancelación de ruido. Podemos ver una reducción significativa especialmente en las frecuencias de rango medio.
How it works
Dogs can hear a much wider range of sound frequencies that humans can, and they can do so from four times farther away. That makes the unnatural noise from fireworks especially loud to them, and much more stressful as a result. Humans are generally thought of as being able to hear frequencies between 20Hz and 20,000Hz, while dogs can hear much higher frequencies in the general range of 67Hz to 45,000Hz.
The quite kennel is built using sound proof materials, such as, high density cork, furthermore incorporates a active noise system inspired in the noise-canceling technology that's built into its latest Ford Edge SUVs.
In the car, microphones are used to pick up engine and transmission noises, and speakers then play the opposite frequencies to cancel them out.
The kennel incorporates a set of microphones and a digital signal processor that captures the incoming sound wave s and generates their inverse. Adding both produces a disruptive interference that reduces the strength of the sound.
The next image shows the result of applying active noise cancellation to a firework sound; the blue bars represent the sound strength of the original sound frequencies and the green bars after applying noise cancellation. We can see a significant reduction specially in mid-range frequencies.
&nbsp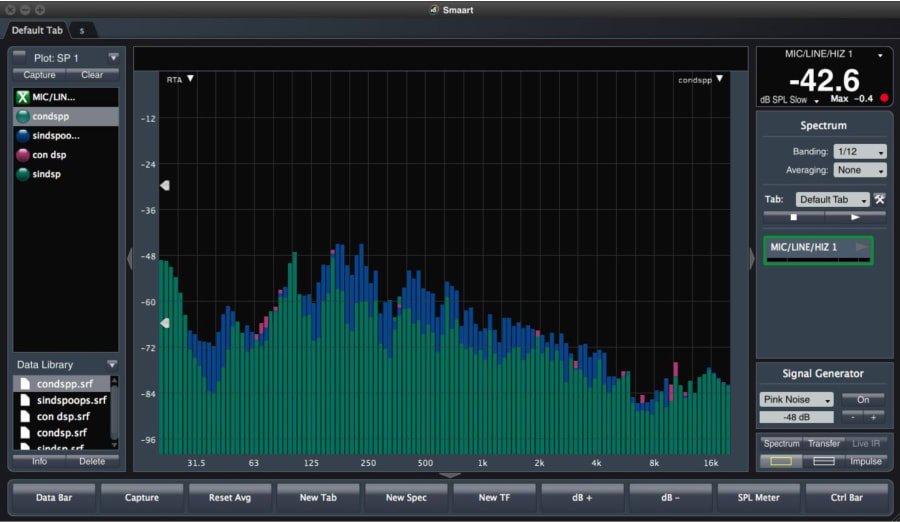 A Project by: Espadaysantacruz Studio
Client: Ford
Agency: GTB London
Film direction, Design & Production: Espadaysantacruz Studio
Music: TDL Music


Dic - 2018