Corona Perspectives
Interactive webapp for Corona Beer and JWT: HTML5 + WEBGL, 3D data visualization of epic tennis matches.
AWARD WINNER:



Shorlisted for project of the year The Cutting Edge Award - Project of the Year
Shortlist in the Tomorrow Awards, 2013
Adobe The Cutting Edge Project of the Week, FWA, July 15, 2013
FWA site of the day, July 12th 2013
Shortlist in Cyber Lion Cannes 2013.
Premio Oro de El Sol (Categoría: Desarrollos tecnológicos). El Festival Iberoamericano de la Comunicación Publicitaria 2013.
Premio Plata Club de Creativos 2013.
"Site of the Day" from Design Licks Awards www.designlicks.com
Espadaysantacruz Studio developed this project for JWT Spain and Corona Extra, Premier Partners of the ATP World Tour, a website which pays a tribute to tennis through three legendary matches in recent Grand Slam finals. Corona Perspectives is an online app for data visualization offering the possibility of exploring all the balls' trajectories during those matches through a digitalized 3D model.
In our previous work for Corona "Every match is a masterpiece", we developed a software to generate a 3D model of all the ball´s trajectories during a match. From this model we were able to generate all the static graphics of three legendary matches in the recent history of this sport.
The new challenge of Corona Perspectives was to create an app which would be able to move the thousands of trajectories of a tennis ball in real time and offer an unprecedented visualization for the fans of this sport.
We used WebGL, HTML5 and the Three.js library to develop an efficient and aesthetic data visualization tool.
This project has been awarded some of the most important prizes for design like FWA site of the day or Adobe's Cutting Edge Award; it has also been selected by advertising festivals like Cannes Cyberlions or the Tomorrow Awards.
Espadaysantacruz Studio desarrolló para JWT España y Corona Extra, Premier Partner del ATP World Tour, una web que rinde homenaje al tenis a través de 3 finales míticas de los últimos grand slam. Corona Perspectives es una aplicación online de visualización de datos que permite explorar todas las trayectorias de la pelota durante estos partidos digitalizadas en un modelo 3d.
En nuestro trabajo previo para Corona "Every match is a masterpiece" (link), desarrollamos un software para generar un modelo 3D con todas las trayectorias de la pelota durante un partido. A partir de este modelo se generaron gráficas estáticas de tres grandes partidos de la historia reciente de este deporte.
El nuevo desafío de Corona Perspectives era crear una aplicación capaz de mover a tiempo real las miles de trayectorias de la pelota de tenis y así obtener una visualización nunca antes vista por los amantes de este deporte.
A través de WebGL, HTML5 y la librería Three.js desarrollamos una herramienta eficaz y estética de visualización de datos.
Este proyecto ha sido galardonado con algunos de los premios más importantes del diseño web como FWA site of the day o Adobe's Cutting Edge Award; además de haber sido seleccionado para festivales de publicidad como los Cannes Cyberlions o los Tomorrow awards.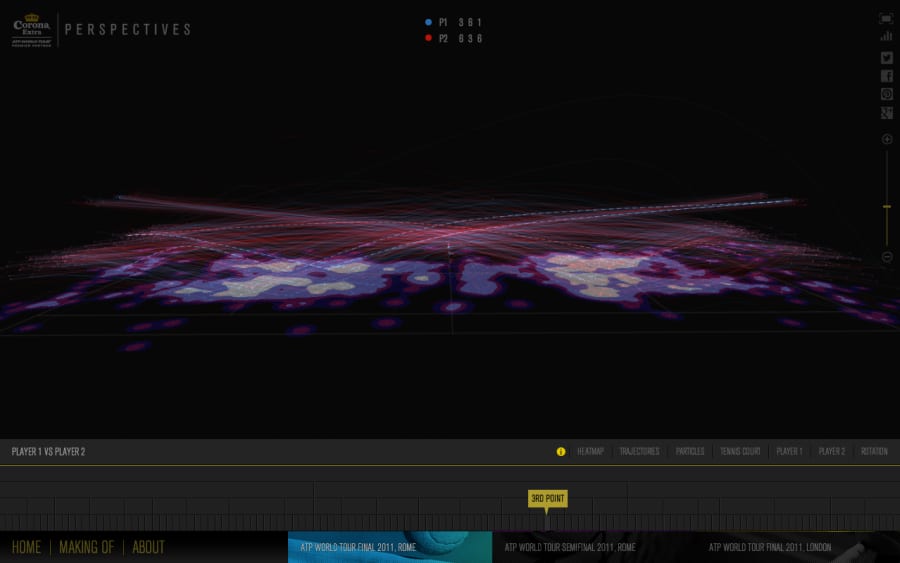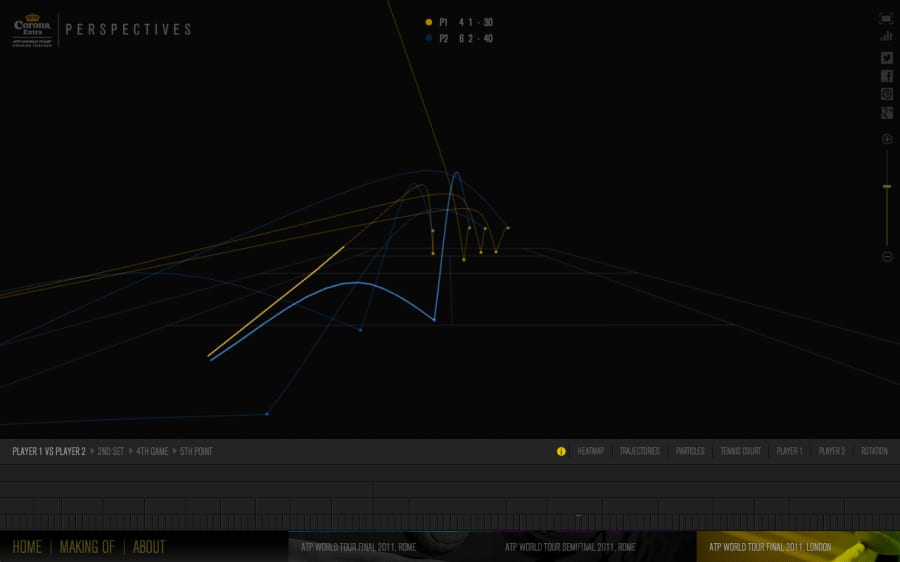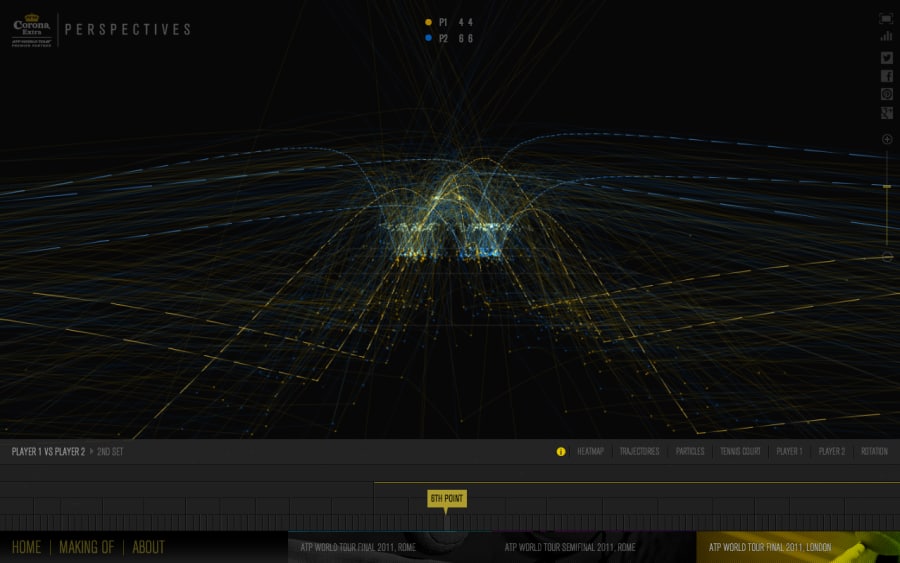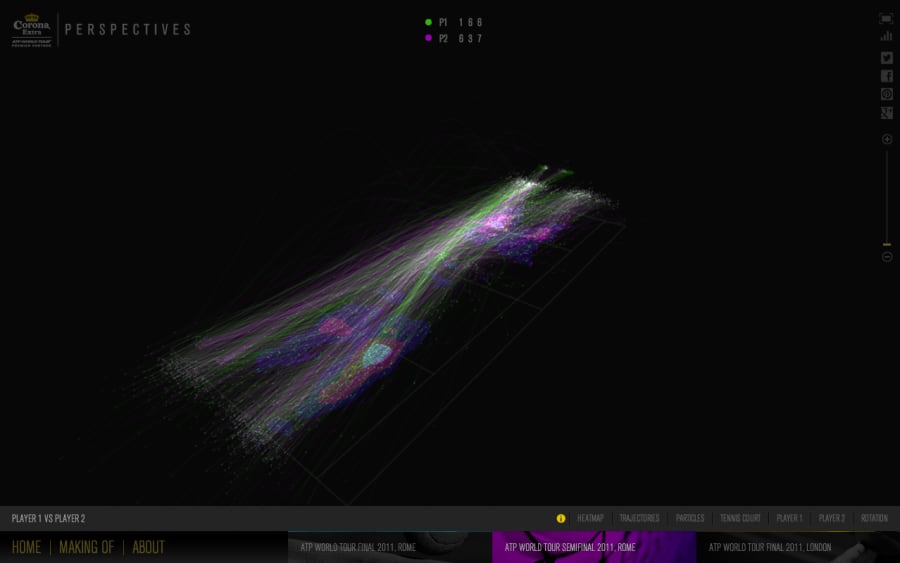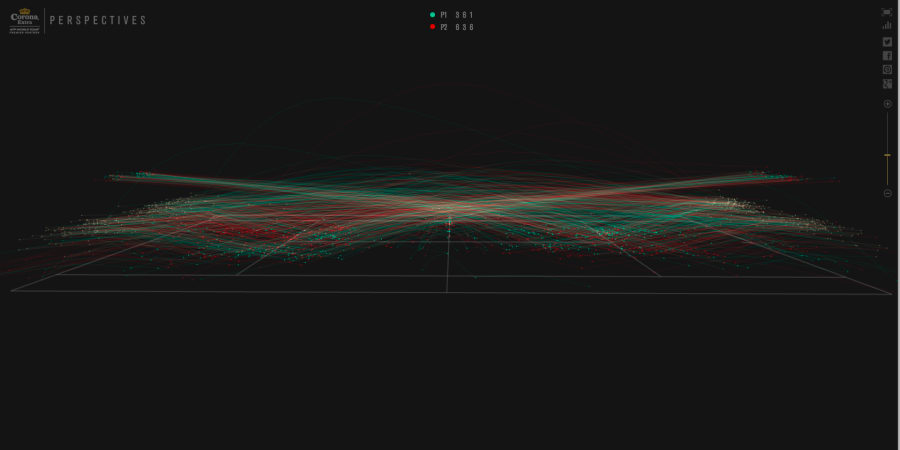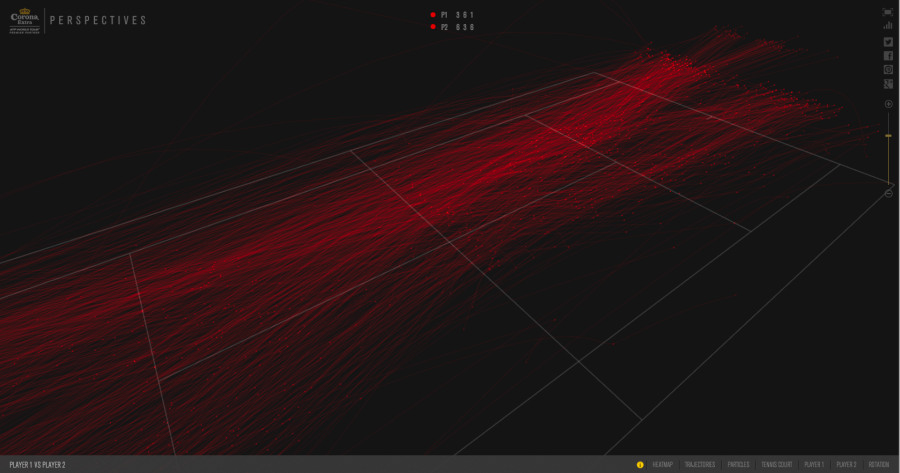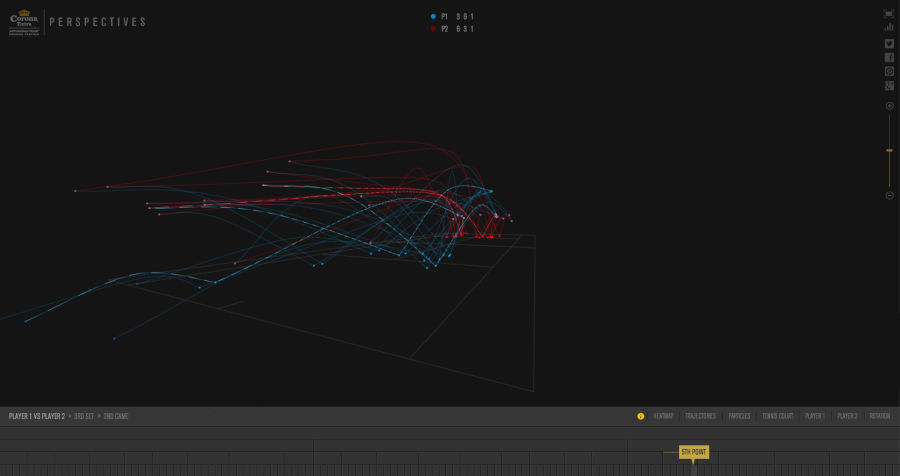 A Project by: Espadaysantacruz Studio
Client: Corona
Advertising Agency: JWT
Powered by: Three.js & WebGL
Jun - 2013